Company "IMC" offers service – SEO Optimization.
With the help of the strategies developed by us, your website and its content will be able to appear on the first page and to occupy leading positions in the search engine. Organic traffic from search engines will bring you the greatest benefit for years to come
Search Engine Optimization
This is the optimization of your website by the search engine algorithm (for example, Google) so that it appears in the first positions in the search. SEO focuses on improving the ranking of organic (free) search results. If you have a website and you want to get more traffic, it should be part of your marketing effort.
How does SEO work? Search engines such as Google, Yandex, Bing and others use bots crawling on the Internet, moving from website to website, collecting information about these websites and indexing them. Then, using a multifaceted algorithm, the information placed on the website is analysed, taking into account various factors and signals decide the positions of websites in the search engine.
Search ranking factors can be considered indirect factors of user experience. Different search engines have different sequence and value of important factors. Due to the fact that the most popular search engine in our country is Google, we will offer you the main factors of its SEO-optimization. The sequence may not always be the same, yet there are important factors.
Why is SEO optimization important for marketing?
SEO optimization is a fundamental part of digital marketing, as people make trillions of search queries every year. Often, they search for information about products and services for commercial purposes. In many cases, the search is the main source of digital traffic for the brand and complements other marketing channels. Getting more visibility and a higher ranking than your competitors in search results may have a significant impact on your success.
Over the past few years, however, search results have evolved to provide users with more direct answers and information, keeping more users on the results page rather than redirecting them to other websites.
Also note that features such as rich results and knowledge panels displayed in search results can improve visibility and provide users with more information about your company directly on the results page.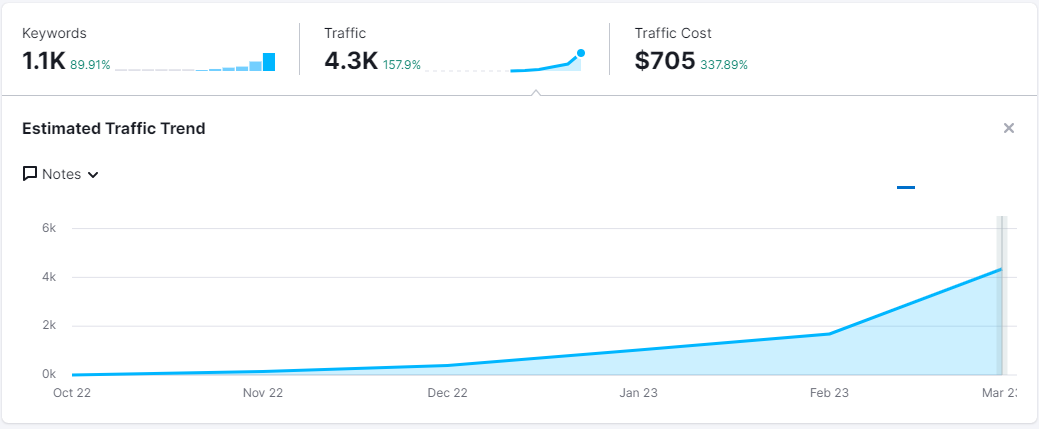 source: Semrush.com
Why do I need SEO optimization?
The more people visit your website while searching with the relevant keywords in the search engine, the more traffic and customers you get to your website. This requires that your website and its content match the factors that the search engine algorithm (such as Google) takes into account when ranking search results.
More than 55% of website visitors are organic visitors from search engines. Therefore, everyone understands how important it is to bring as many organic «free» visitors to our website.
You may think how is it free if I pay for this service?! The answer is simple – SEO-optimization is a process after which you get users for years without further costs. And these are the customers who you need.
Think most often when do you use the search engine? when you may need something, you're looking for something, whether it's information, service, product or something else. The search engine first offers the most suitable results. This is due to the search engine algorithm and proper SEO optimization.
Why should Google rank us?
Google is the largest and most powerful search engine in the world. However, it has competitors such as: Bing, Yandex, Yahoo, Baidu and others. Actually, Google is the leader, yet it does everything to keep this position. Its first concern is customers, because every one of them is a source of income.
Any of us who use Google services, even if they are free, pays Google for those services. The main payable is the information we provide to this giant company in the course of our daily activities. And on the basis of this information we get Ads suitable for us at different times and in different places.
For Google, the priority is to ensure user satisfaction with its services to a maximum extent, so that it is not replaced by competitors. Therefore, the website, which will occupy the leading positions in the search results, should be as close as possible to the keywords that the user enters in the search engine. It should contain content that will leave the user satisfied and not want to go anywhere else. Thus, both the user and Google are satisfied. It is with these principles that SEO search engine optimization works.
SEO-optimization – important factors
SEO optimization results depend entirely on the algorithm that determines the positioning of a website on the search engine results page. The algorithm includes more than 250 different «ranking factors», but there are certain special factors that should be considered in each SEO strategy.
Website speed – Fast website is one of the important factors to which Google attaches great importance. If the website is slow, it is inconvenient to users, and such websites will not be of value to Google.
Device adaptation – due to the fact that the use of mobile devices for surfing on the internet and receiving services increases every day, adaptive mobile websites became a prerequisite for the search engines.
Quality of content – The website you want to optimize, shall contain and provide quality content to your customers. The higher the quality of your content, the more users will interact with your offers, which will help you get a higher ranking.
Authority of a website – its popularity in the society and its mention frequency in the web space – is one of the important factors. It is essential that credible websites tell about your products or services and direct users to your links.
Technically high-functioning websites – do not need to explain a lot that the website should work properly from the beginning to the end and do not confuse and do not scare users or bots of the search engine.
The relevance of keywords – the use of keywords on the website must necessarily correspond to search queries that are formed by user search habits over a long period of time. Research of keywords is also one of the most essential and possibly decisive factors for successful SEO optimization of your website.
Many other factors – In addition to the factors listed above, search engine algorithms consider about 250 factors to determine which position your website should take.
Secure and accessible site
Not surprisingly, the number one factor in our SEO ranking is related to the right type of URL. In particular, it is a URL address to which Google bots can easily access and view. In other words, Google should be able to visit the URL and view the contents of the website to understand what this website is about. To support bots, you need:
Website created on a well-coded platform (e.g., WordPress)
Robots.txt file informs Google where your information can/cannot be found.
Website map with a list of all your pages.,
Google algorithm
Search result ranking is defined by Google algorithm. Google algorithm remains a secret. However, years of SEO experience have given us a fairly good idea of the crucial ranking factors. In our view, Google algorithm factors fall into two categories:
There is another side factor. Your competition with the websites in the same field. In some areas, ranking is much more difficult. There are many reasons to be studied. Competition in the market also strongly affects your chances of ranking.
Website speed (including mobile website speed)
Website speed has long been considered one of the leading SEO ranking factors. Google wants to improve users' online performance, that can be ensured by fast loadable websites.
Due to the fact that the use of mobile devices is gradually growing, your website as well as its mobile version should have a high-speed. The fast-loading website is user friendly, so Google sets a high value on this factor.
You can check the speed of your website using the free tool – PageSpeed Insights.
And check the mobile compatibility of your website using the Mobile-Friendly Test.
SEO optimization and mobile compatibility
As aforesaid, the frequency of use of mobile devices increases every day, so your website must be compatible to mobile devices. Website development includes the creation of a website adaptable for all devices, including mobile devices.
Google indexes the website primarily for the mobile-friendliness, so if your website is not «responsive», i.e. that it is not scalable to all devices, you put SEO optimization of your website at risk.
Details that should be considered:
Have a website that is perfectly adapted to all devices with automatic size change.
Use large font for easy reading on small screen.
Enable the available menus to simplify site navigation.
Domain age, URL and authority Did you know that almost 60% of websites in the top ten of Google results exist three years or older? A survey of two million websites conducted by Ahrefs shows that very few websites younger than one year achieve this result.
In some cases, the domain name is crucial. Although Google has approved the matching domains (the target keyword of which is in the URL), this sanction usually applies to the websites with narrow spam content.
Moz survey shows that the exactly matching domains that are considered relevant, valuable, and of high quality are indexed. However, if you already have a well-established website, you don't need to look for a domain with an exact match for your business.
What is the best way to choose a domain? Focus on the URL that reflects your business and optimize it.
When it comes to SEO, standing in the community is crucial. As you will see later, this is mainly a combination of recommended content and external SEO signals (for example, sharing in social media). If you are creating content that many people or companies talk about online, then you have made great strides in SEO optimization.
You can check domain or website authority with Open Site Explorer. Simply paste the URL of your website into the search box, and you will get the data showing the domain prestige, website authority, obtained and lost backlinks.
SEO-content optimization We put in a nutshell above that a user who comes from a search engine needs to find valuable content on your website. But believe me, the importance of content optimization for success cannot be explained with a few words. Here, too, you need to consider a lot of sub-factors that strongly influence the positioning of the website in the search engine.
It is important not only how interesting and informative content you post, but also how you convey it to users. However, until then, Google must consider your content valuable in order to convey it to the next customer.
Technical SEO-optimization
We have already said that proper coding is an essential factor in SEO optimization and better ranking. It can be a little scary if you are less aware of technical issues.
Here are some aspects you can manage even if you are not a web developer:
The keywords that Google uses to determine which website is more relevant to a particular search query should be included in the title of the page.
Use the text header to show the hierarchy through h1, h2 or h3, etc.
Write a meta-description that attracts the reader and includes keywords.
The meta-description should be clear and concise (up to 160 characters).
Use keywords in the image Alt Tags to show how important these images are for the main content.
With the help of Alt-tags you can offer more interesting content even to blind readers.
Use the scheme markup to tell Google what content you are creating.
User Experience (RankBrain)
It has been a long time since Google use artificial intelligence to better study websites. It calls this signal RankBrain. These include other signals that affect your ranking in search engines. They include:
Click-through rate: Percentage of people who went to your website after a search.
Bounce rate (especially exceeding pogo): the number of people who visited your website and quickly returned to the search results.
Time spent: How long did visitors stay on your website after visiting it.
If people visit your website, they do not like it and quickly leave, it makes Google think that your site does not «deserve» this place. If many people do the same, it will be difficult for your
website to occupy high positions on the search engine results page.

SEO-optimization and links As we said at the beginning, the Internet network is built on links. Therefore, naturally, links are an important signal of ranking SEO-optimization. There are three types to be considered:
Inbound links
Outbound links
Internal links
Inbound links
Inbound i.e. incoming links are links that are redirected from other websites to our website. This is an important factor because search engine bots can not perceive the text where other authoritative websites talk about your website.
And when authoritative websites talk about you it is an indication for Google that you create something interesting enough to be talked about by other important people or companies. Which obviously plays a crucial role in SEO optimization.
Outbound links
Outbound i.e. outgoing links, are links that are redirected to other websites. In this case, you place the link in the part of the text where you talk, for example, about Facebook, Amazon or another company. By using outbound links, you inform Google that you are talking not only about an interesting topic, but also about an interesting and authoritative website or company.
Obviously, Google is paying attention to this.
Internal links
Internal links are links redirected from one page of your website to another. This detail is important because it makes easier for search engine bots to navigate through your website, leading them to all pages and show the general structure of your website.
A page without internal inbound links can be missed by bots and not indexed by search engines.
SEO-optimization and social signals
When people share your content on social media, it is another sign that your content is valuable. Cognitive SEO research showed a clear correlation between sharing in social media and SEO ranking.
Google does not recognize the number of social media shares as an official ranking factor. Links from Twitter or Facebook are not as valuable as links from other reputable sites.
However, this does not mean that the total number of shares does not affect SEO optimization. Obviously, it affects:
The more you share on social media, the more website users you attract.
The more you share on social media, the more chances you have to get backlinks.
Local SEO optimization
Only website is not enough to present your business well online. If you have a physical space, for example, office, shop, bakery, restaurant or other, you must register it in Google My Business.
Local SEO optimization will make your business available even when the user is looking for a location on the map. Thus, you will simplify the client's path to you, which is another means of creating comfort.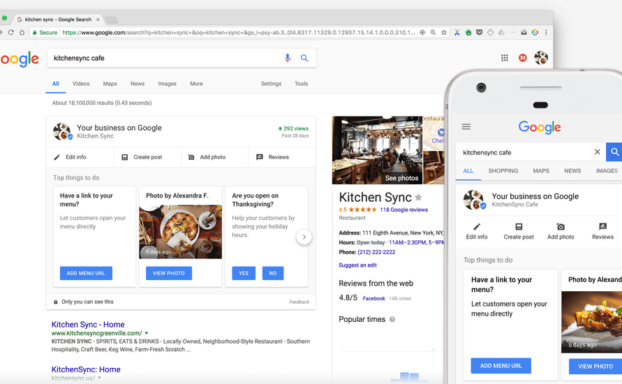 In addition, you can add photos of your interior or exterior to this account, which will cause more interest in people searching and increase the chance that they will choose you.
Here you can enter important data about yourself such as: name, address, phone number. You also have the ability to track the activity of people logged in from this particular business account.
How can the company IMC help you?
An experienced, skilled and creative team will place all the details and factors on your website that will make SEO optimization successful. We will study and configure the website with all possible details, which will give you an advantage in the search engine. Our marketing strategies will raise the ranking of the website and make it competitive in the existing market.
Holistic SEO Optimization
Your main goal should be to create the best website and maintain it for a long time. Don't try to fool Google, use a sustainable long-term strategy. Your website will be automatically ranked if it is of high quality. Google wants its users to get to the right place. It collects all the world's online information and makes it accessible and useful to everyone.
In addition, Google, of course, wants to make money. To this end, they need to make sure that people continue to use Google. This means that they will have to show people the results they are searching for. Thus, if your website is the best in your market, Google will show it first.
Constant ranking in Google requires a long-term SEO strategy. The vision that focuses on all aspects of your website and its marketing. The technical side, the user experience, the content of the articles on your website – everything should be at the highest level. To maintain your ranking in search engines, you need to develop a long-term approach to SEO.
Holistic SEO requires:
Easy website to increase loading speed
Titling
Image optimization
Website code structure and minimization
Keywords and Word Cloud
Using Google, Yandex and Bing System Tools
On-page and Off-page factors are of great importance in holistic SEO:
On-page SEO factors
The ranking of your website is partly determined by On-page factors. SEO factors of a website are all you can affect directly from your website. These factors include technical aspects (such as the quality of your code and the speed of your website) and content-related aspects, such as the structure of a website or the quality of articles on your website. These are all
crucial SEO factors.
External (Off-page) SEO factors
In addition to On-page SEO factors, there are external factors. These factors include links to other websites. as well as social media attention and other marketing activities outside of
your website. These external factors are essential. The most important external factor is the number and quality of links to your site. The better the quality and authority of the websites
redirecting these links to you, the higher your position on Google will be.
We have the best SEO optimization service for your website