Website development plays a crucial role in the success of your business – it continuously, independently of you, hosts your visitors and provides them with information. This is why it is essential how well-developed your website is, whether its design corresponds to the brand essence, how simple its interface is and whether it is convenient for users.
For further details contact us at below specified number. +995 593 26 26 12  (WhatsApp/Viber)– Contact us and your website will be created within the shortest possible time, at the best price!!!
How crucial is a website development to your business?


A lot of people spend most of their time online, purchasing products, using services, reading blogs, entertaining themselves and for many other reasons. Considering the amount of time people spend online, businesses are also gradually moving into the digital world. For the owners of any-sized businesses, having a website and presence in social media has become critical. If you are running a business, but you have not yet created a website, you may miss out on many potential online customers. It is essential to understand the importance of having a website for your business growth.
Below you can find 12 reasons highlighting the importance of a website development:
A website ensures 24/7 online presence
One of the main advantages of website development is that it is accessible to everyone, anywhere and at any time. Even after the end of working day, customers can visit your website and use your services or get the necessary information. This is a key element in understanding how important website development is for business. Websites work continuously to serve all customers and represent the company online.
24/7 Customer support
Providing continuous customer support is a challenge for any business. However, online customer support is more convenient and cost-efficient alternative than hiring the staff. It is here that the importance of website development is demonstrated, because through a website customer support can be provided in various ways:
Frequently Asked Questions (FAQ) is the most commonly used tool. A website automatically answers all frequently asked questions – it is a time and resource-consuming tool providing users with accurate and up-to-date information.
Chatbot – a Website Chatbot answers frequent questions through instant messages. Chatbots can also provide users with a lot of other necessary information such as registration procedures, service/product information etc.
Website Development and Information Sharing
More than 50% of customers expect that any brand or business will be present online where they can serve them. The advantage of website development is its convenience for customers to obtain necessary information. In essence, a website is nothing but a way to communicate with customers and provide them with information and resources. Here are several ways through which websites can help in sharing information:
Ads providing information about new offers, products or services.
Newsletters providing information about upcoming events and news.
Contact forms requesting user information.
By website development, you build credibility
Like before, when customers expected the company to provide its contact details and addresses in the information booklet, now they expect the company to have a website or other online platform. This is a crucial step towards building trust and credibility.
From this perspective, building a website for business is very important. Looking into details, if a company has perfect website for its functions and navigation, customers are more likely to trust the business and use its services. Website development is an important tool for companies to gain customers' trust and credibility. New companies on the market can then additionally optimize local SEO services to attract customers who live nearby.
Professional website development
Website visitors will have no reason to stay on the website if they are not interested. Visitors can easily get bored because they always expect something unique and interesting when visiting any website. Therefore, it is important to create company websites with unique design and architecture to provide users with exceptional opportunities and convenient navigation. This will help to increase the number of visitors who potentially purchase products or use services offered by your business.
Sales
Your business affordability is improved by website development because it is accessible from anywhere in the world. Thus, building a website helps businesses to overcome geographical barriers and significantly increase their sales.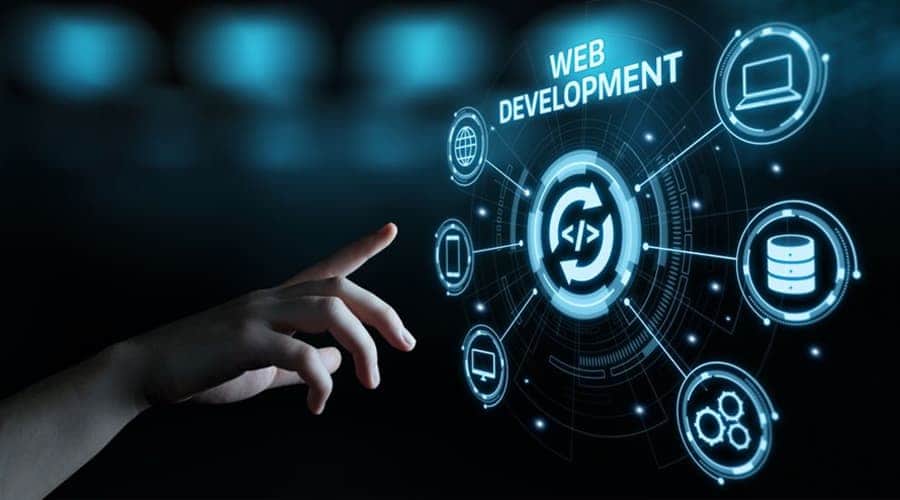 Website development will increase your income
There are no limits on the income that can be earned from your website. If your website accessibility can cross borders, the revenues may increase dramatically. You only need SEO optimization to take the leading positions in the search ranking engine and attract customers. Furthermore, you can also sell advertising space on your website. For instance, if your website is dedicated to browsing or selling mobile phones, you can customize the advertising banner on your website to display relevant Ads. It's an additional way to earn extra income.
Cost-effectiveness
A physical commercial establishment requires heavy capital investments to own or lease commercial space. Furthermore, furniture, interiors and staff require additional costs that cannot be ignored. Given the amount of money you will need for all these, website development is much cheaper and offers much more opportunities. And if you choose our company, you will be even more satisfied, because our priority is to meet customers' goals to the greatest possible extent, and the price will be acceptable to you.
Website development increases your visibility
A website can become your online store, office or showroom with minimal costs. A physical store will be visible within a specific radius of its location, depending on its type. However, when it comes to online business, there is no limit to visibility or accessibility. Customers can access the website from any part of the world.
Marketing
Marketing plays a crucial role in the expansion of any business. Website development greatly simplifies sharing information on your business when people are searching for it. Let's say your offline business is going well, and now you wish to expand it online. If you have a website, you can make it appear in search engines when people are searching for something with keywords.
There are two types of marketing methods that make it possible. One is Search Engine Optimization (SEO), and the other is Search Engine Marketing (SEM). SEM is sometimes also called Pay-Per-Click (PPC). In addition to SEO and PPC, you can also apply Social Media Marketing, Advertising or other tools for your website. You can select the right Target Audience and use demographic data such as age, sex, location etc.
If you need to manage your Facebook page and Facebook Ads, please contact us via our page: fb.com/imc.ge. Our marketing services will make your online business successful.
Portfolio Website development
Don't limit your website to just selling products or services. Create a portfolio that shows efficiency of your activities. For instance, your business involves travel and tourism. You can create a family video portfolio to show others a common experience, from booking tickets to photographing trips. See our portfolio and join our setisfied partner list.
Website development has become crucial in the digital age. A business without a website misses many of the advantages the Internet can offer. In addition to these substantial benefits, it also helps us in many other ways. For example, a website may display a map or route to your site or office. If someone wants to learn about your business at a convenient time for him/her, a website will help him/her, as it is available at any time. A well designed and attractive website can improve brand image. To become a successful businessman, it is necessary to create a professional website.
Increasing Opportunities
A website can function as a company portfolio or resume. It can be useful for business since a website may serve as a reference for potential investors where they can be informed on your services, achievements and future plans.
+995 593 26 26 12 (Whatsapp) (Viber) – Contact us and enjoy with the best terms and conditions for website development!